I Love working on Projects
Sometimes there are a million thoughts chasing each other around in my head. That's usually the moment I get an idea for a project. When I decide to bring something to life I look for the right collaborators because after all you're only as good as the team you get to work with.
'OK, Just SAY IT' With TARA DEACON (2017)
THE IDEA
Sometimes we don't dare to say what's on our mind, because we are too scared of the confession we want to make. Maybe in this moment the truth is just too big, the white page too scary, or we don't want to hurt another person, so we stay quiet. Tara Deacon and I began this small collaborative hand lettering project to create a space to say the things that need to be said, even if it hurts.
THE PROJECT
One night at a friend's dinner lots of thoughts and confessions started to buzz around the room, and with the help of a bottle of red wine we started to write them all down. Because our friends loved the idea so much we decided to create a small zine and an instagram account to make it an analog and multi-digital project. However the process of writing down the confessions in hand lettering is a true moment of significance in this project.
THE TEAM
This is a collaborative project between myself and South African and Berlin based illustrator Tara Deacon.
'Make A Compliment' IN COOPERATION with THe Michelberger Hotel (2016)
"I can live for two months on a good compliment"
(Mark Twain)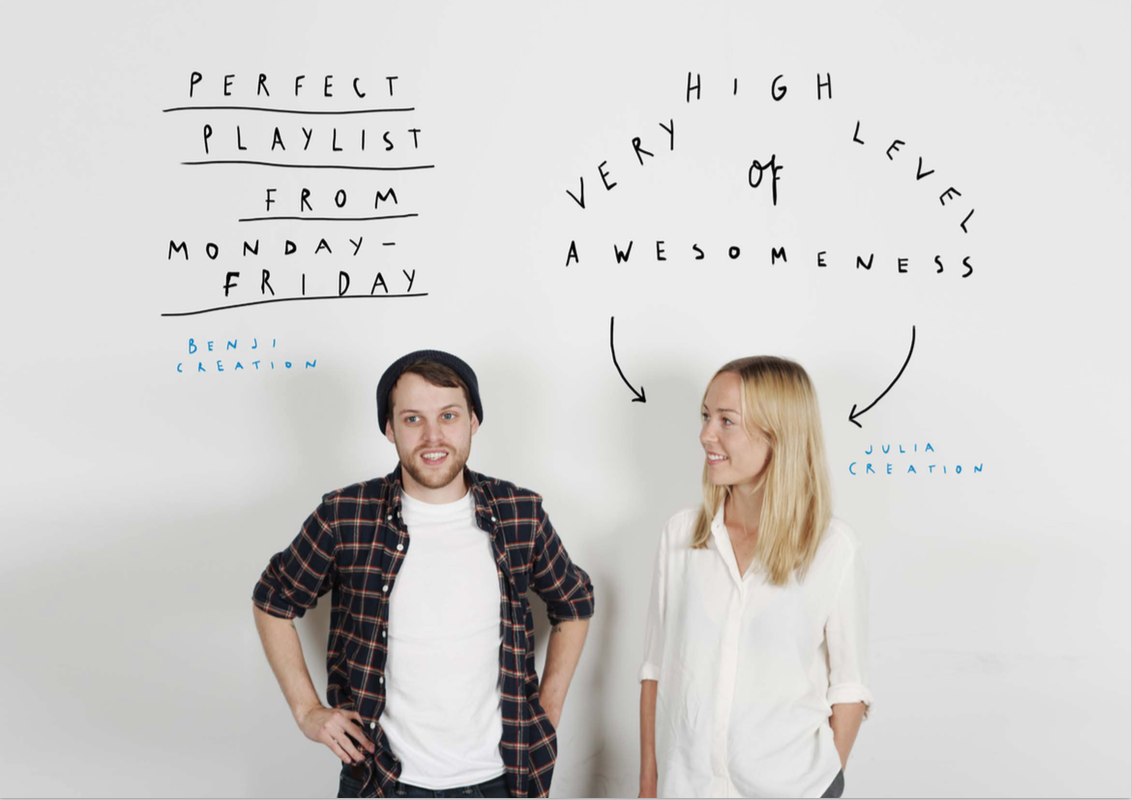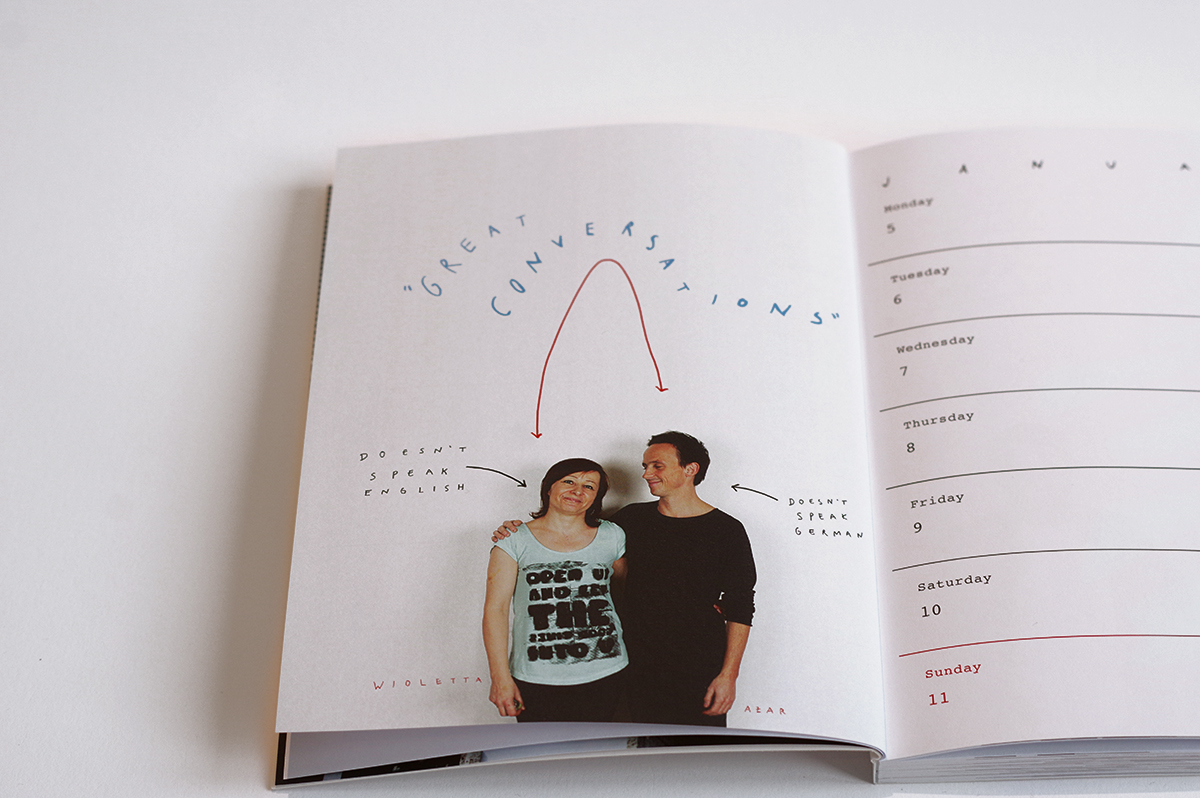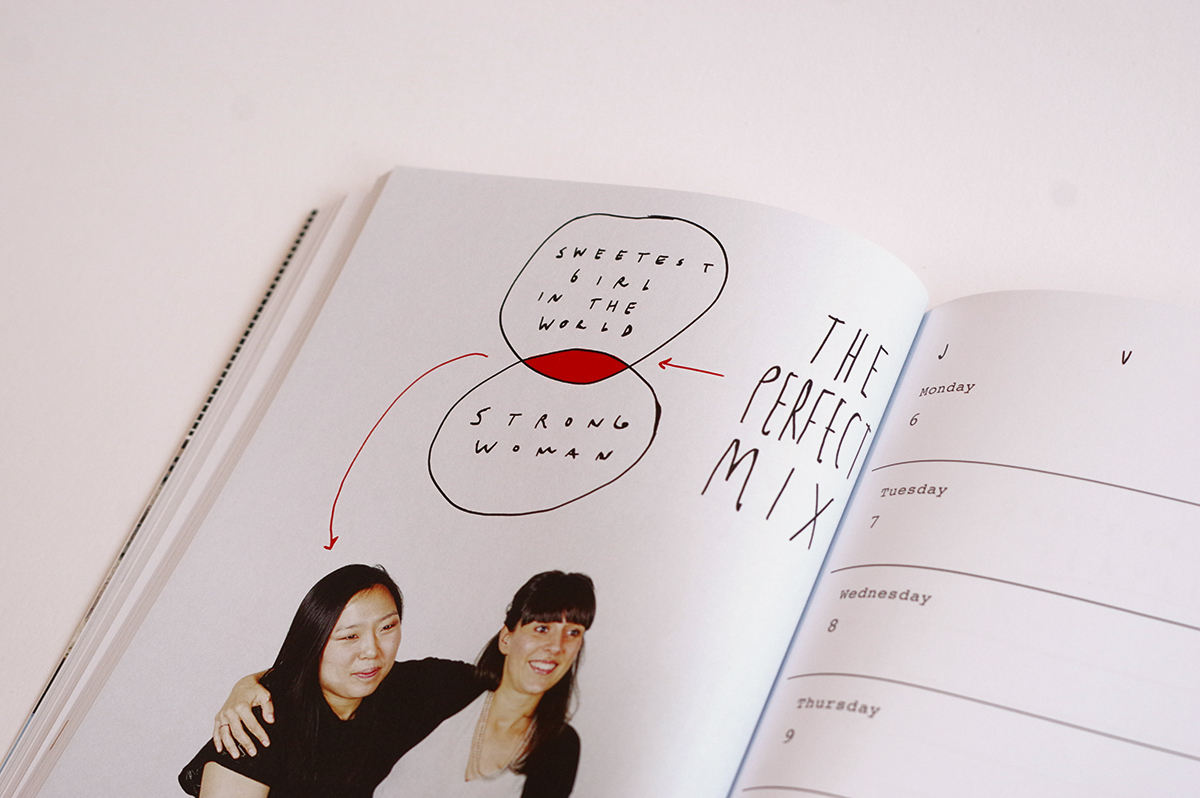 THE IDEA
Being nice keeps the world spinning. In our daily life and (especially in German culture) we rarely take the time to tell each other when we did something good, or what we like about someone. We take a lot of things for granted. This project is focused on the most simple gift in the world you can give another person: A compliment.
THE PROJECT
This project happened in collaboration with the Michelberger Hotel in Berlin. During the project employees were invited to bring their favorite staff member to our mobile photo studio to give them a compliment. In one week we shot over 90 people catching the dynamics and relations between all of them. There were smiles and tears, and many compliments made that on a daily basis get lost in the hustle of the hotel business. The compliments and interviews were then illustrated and transformed into a Michelberger Hotel Agenda for the year 2015, which was then distributed as a Christmas present to all employees.
THE TEAM
Idea, Concept, Interviews, Cover-Design and Project Management by me.
Photography and Art Direction: Rita Braz. Project Management Assistance: Wencke Ruppenkamp
'WHAT IS YOUR QUESTION?' An Art Installation At Zeppelin UnivERSITy (2013)
the IDEA
Based on my bachelor thesis about the generation "Y" , I developed an art project, where some friends and I started to brainstorm all kinds of questions that were popping up in our millennial minds. We came up with about 200 Questions and installed them during an overnight guerrilla process inside the main building of Zeppelin University. The aim of the project was to show in what kind of insecure state of life millennials are constantly living and that we need to rely on being open to questions in a Rainer Maria Rilke(an) kind of way.
"Be patient toward all that is unsolved in your heart and try to love the questions themselves,
like locked rooms and like books that are now written in a very foreign tongue.
Do not now seek the answers, which cannot be given you because you would not be able to live them.
And the point is, to live everything. Live the questions now.
Perhaps you will then gradually, without noticing it, live along some distant day into the answer."
(Letters to a young poet, 1929)

THE PROJECT
We also wanted to say "goodbye" to Zeppelin University by asking some specific questions that did relate to our three years of studying there. In a certain way this was our way of saying "fare well" to three years of fun, learning and challenging moments. We came to University with lots of questions and left with even more, because that's what Zeppelin University taught us.
For the project the mix of the question was especially important to us. The questions covered funny, political- and big philosophical or social discussions. In the process of coming up with them we dared to ask questions we had wanted to ask for a long time.
THE TEAM
Idea and Concept by me.
Team: Wencke Ruppenkamp, Nico Hoffman, Robert Bauer, Friederike Reinl, Jennifer Willoh
'Wellenreiter Concert Series' In UNUSUAL LOCATIONS IN FrIEDRICHSHAFEN (2012/2013)
"Music makes the people come together"
THE IDEA
Friedrichshafen, where Zeppelin University is based, didn't have many concerts. For someone like me, who grew up going to concerts every week, this was a devastating shock to find out. After working for the student radio station Welle20 for a while some friends and I decided to found our own concert-concept: The Wellenreiter Concert series. We started organizing small concerts in unusual locations in Friedrichshafen that neither students or locals were likely to visit by themselves. This way we've hacked the community and united the local population with the students through curiosity and a shared new experience. The first concert took place in a small independent cinema and was sold out, the second concert was held in a greenhouse.
Organizing those small concerts in odd locations was a great opportunity to apply all the theoretical concepts we learned during our studies of "Communication and Cultural Management" at Zeppelin University.
PROJECT TEAM
Wellenreiter concerts started as an idea and project by Hannah Bahl, Kilian von Dallwitz and Jürgen Muckenschnabel
Artists: We focused on upcoming German speaking artists: among them Die höchste Eisenbahn, Nicolaus Sturm, Florian Horwarth
'The Snack Book Machine' AN ART INSTALLATION AT Zeppelin University (2010)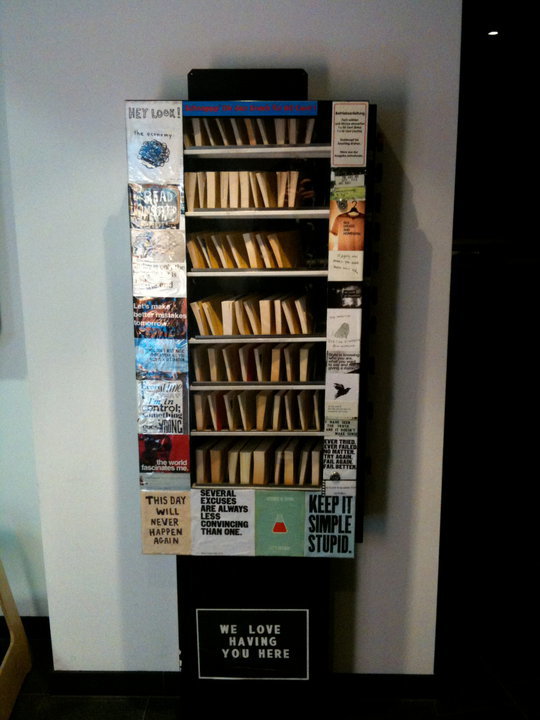 "The smallest bookstore still contains more ideas of worth than have been presented in the entire history of television."
(Andrew Ross)
Studying at Zeppelin University meant spending your daily life in the university buildings. One night while working on a project, some friends and I started thinking about "healthy snacks" we would have liked to have while studying. During this thought process we came up with the idea of a book vending machine.
A few weeks later we bought an old vending machine on Ebay, refurbished it ourselves and contacted "Reclam", one of the most important German publishers, who decided to fund the project. We installed "Snacky" at the university and since that day on, people can buy a book for the same price of a coffee. All the money goes straight to a charity project that supports people with illiteracy.
TRANSFORMING A MCDONALDS Restaurant With AN Interactive ART PERFORMANCE (2010/2011)
We live in a fast society. We communicate, eat and text on the go and rarely take the time to focus on one specific thing. This art project aimed to confront people about their speed of life and consumption of fast, processed food.
With the artistic approach of the Fluxus movement and Hartmut Rosas theory of deceleration, we installed an art happening at a McDonalds in Friedrichshafen. We slowed down the McDonalds by serving people burgers on real plates, in an original dinner atmosphere, which had a huge impact on the daily McDonalds customers, who usually don't spent more than 8 minutes inside the restaurant.
With people eating from plates we expanded the McDonalds stay to 30 minutes, which lad to a lot of systemic confusion in this fast food environment. We also made a film about the project, interviewing people about the acceleration of their life. With the performance we influenced the regular visitors to think about their speed of life and started some discussions about time in general.
This performance was part of my studies in "Communication and Cultural Management" at Zeppelin University, where we had to organize an art or communication group project in two semesters.